Products/Director/Changelog
From eqqon
Released Director Versions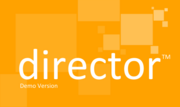 ---
Version 1.5
---
Version 1.4
30.4.2010: eqqon director V1.4 released - Introduced many user interface enhancements and more widgets. Read on ...
---
Version 1.3
source dependent volume controls
enhanced user management
graphical user interface
predefined filters for event history
10.4.2010: eqqon director V1.3 released - A fully customizable user workspace is now available. Read on ...
---
Version 1.2
Auto-Logoff on user inactivity
minimize to tray icon
memory requirements optimized
window positions are now restored
11.2.2010: eqqon director V1.2 released - director is a comprehensive security and evacuation management system with a focus on Public Address Evacuation. You get a fast overview of your system's status and can operate life- or text calls easy from a graphic user interface. director supports Variodyn D1 and Variodyn 3000 Public Address systems. Read on ...